Janvier 2012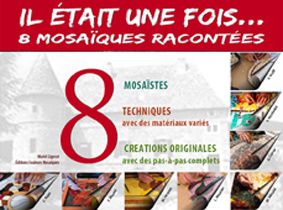 Une centaine de pages, une multitude de photographies, 8 mosaïques raccontées. Des pas à pas qui vous permettrons de vous lancer dans les techniques que vous appréhendez...
"Il était une fois... 8 mosaïques racontées", le troisième ouvrage de Muriel Ligerot, auquel j'ai eu le plaisir de participer.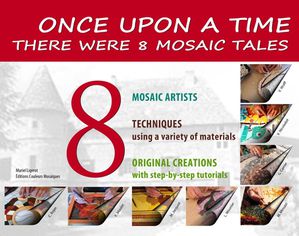 La version anglaise !
"So different from a catalogue of designs, this book shows you how to work with stone, industrial or vitreous glass, unglazed ceramics andlots of other materials through the medium of 8 mosaic projects, each one explained and illustrated step by step.
The techniques for laying tiles are varied: direct method, indirect method or direct method on mesh depending on the projects (panels,table tops or floor mosaics) and the materials selected.
With this invaluable tool, you can begin to discover your own creativity and, with great ease, turn your most treasured projects into reality by choosing the most appropriate method.
Direct method with PVA glue
Ungrouted
Work on mesh
Setting on a base. Grouted surfaces, tiled and untiled
Work on mesh
Setting on a floor surface
Work with glass
Direct method with cement-based adhesive
on clear polyethylene
Indirect method on brown paper
Setting on a base
Indirect method on brown paper
Casting a cement mortar slab
Setting micro-glass tesserae with a cement-based adhesive"